Eisen 7
Building a successful indoor golf facility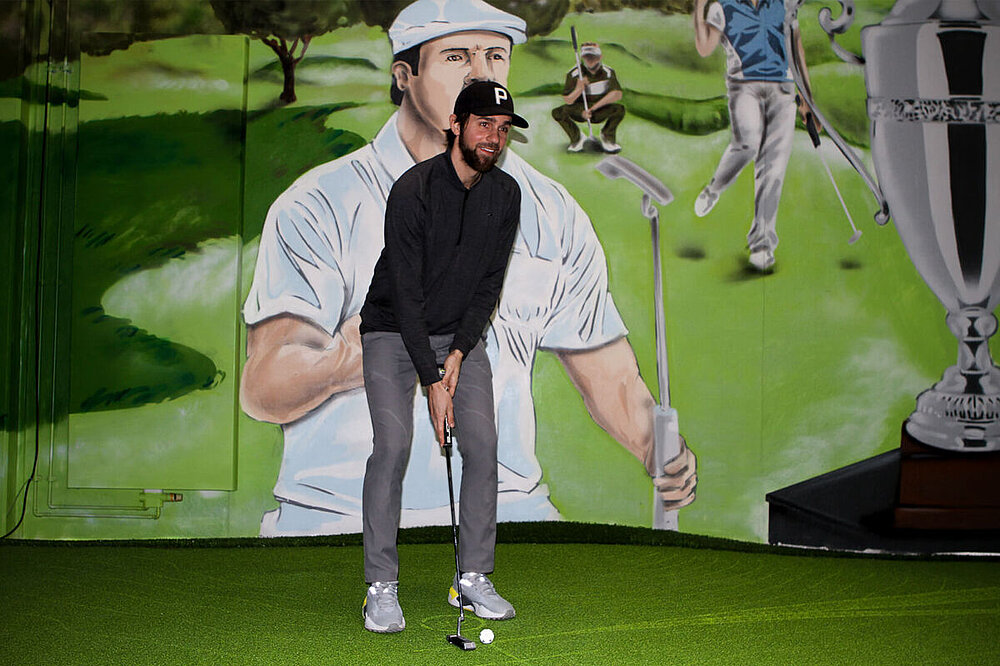 There are countless sports stars out there that fell in love with the game of golf during or after their careers. Take, for example, Tom Brady or Stephen Curry. Some former professionals even take it to the next level and build an entire business around the game they love. That is exactly what Martin Harnik, a former professional soccer player, did and it turned into Germany's largest indoor golf facility. But what does it take to run a successful indoor golf business?
Every country has a sport, that they absolutely adore. In Germany that is soccer. The whole world knows how crazy Germans are about it. So, when a month ago former professional soccer player Martin Harnik opened the doors of Eisen Sieben, Germany's largest indoor golf facility, it caught the attention even of non-golf media. It presented one of those rare chances for the sport to be mentioned outside of the golf circle. Yet, this head-start in publicity does not guarantee success for a business model that is still rare in Germany.
Does a putting green benefit an indoor golf facility?
"It's nothing new. This type of concept can be seen in countless countries. In Germany however, I realized there are not a whole lot of modern indoor golf facilities", says Martin Harnik. The type of concept we are talking about is based on fun. Bring your friends, practice, play some golf on a simulator, and in the meantime have some drinks and food. An aspect that often gets overlooked in all of this: putting. While a lot of facilities offer some type of putting green, it is more of an accessory than an actual asset to the business model. "When my vision about Eisen Sieben became more real, I started to wonder if I needed a putting green", says Martin Harnik. "But I wasn't entirely sure if this was something that would add to or benefit the facility."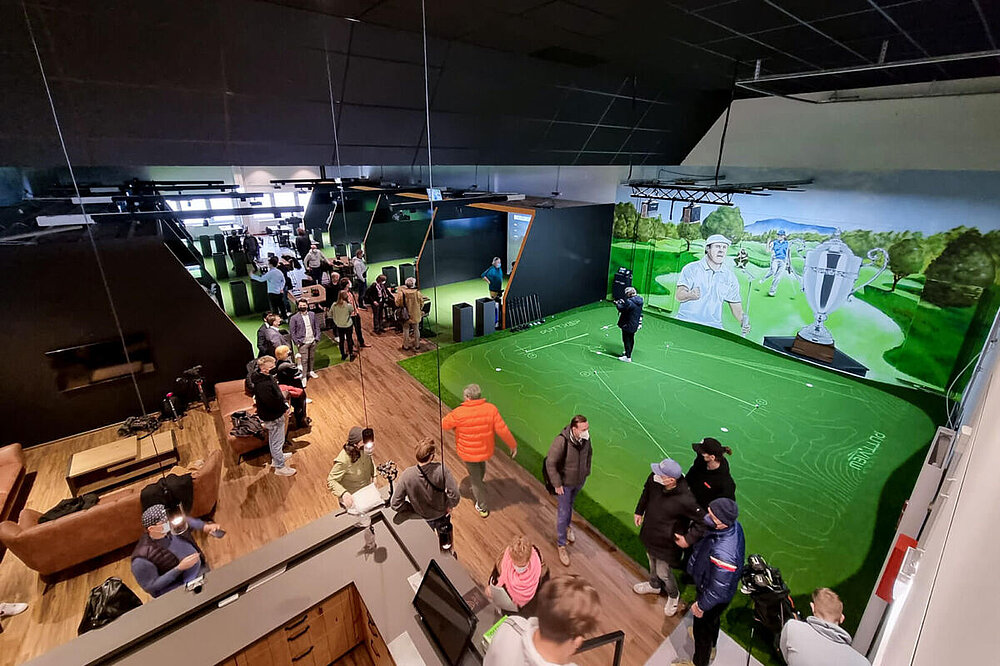 An overview of Eisen Sieben – Germany's largest indoor golf facility.
Start by asking yourself: Would you go and pay for an indoor facility just to hit some putts? The answer is most likely no. So why would you go to such a place and pay for it, even if you might already pay for a club membership at a golf course? As a golfer myself, I would answer this question like this: I would go if I see an added value for myself. Renting a golf simulator that gives me data that I could otherwise not get by myself could be a reason. Playing a round of golf on any golf course with my friends while enjoying the warmth of a room, food, and drinks, could be another. "Technology is everywhere now. You can't watch a golf event without technical data being thrown at you. There is almost no golfer out there anymore that isn't using it", explains Martin Harnik. For him, this technology was what got him back into the game. Unlike a lot of others, the golf bug didn't catch him until his second go at the game. "I picked up the game during my active career, but I just didn't stick to it. It was too time-consuming, and I wasn't that interested", Harnik remembers. At the beginning of the pandemic that changed. Picking his sticks back up, Harnik quickly fell in love with the technical aspects of the game. And, with soccer and golf shut down completely, he decided to build a Trackman golf simulator in his backyard.
Give the customer a reason to return
"Not everyone is fortunate enough to be able to build something like this into their backyard", explains Harnik. "And I asked myself what those people are doing during the lockdown?" He knew, that his envisioned facility was going to feature Trackman hitting bays, but the putting green was yet in question. And that is when he learned about PuttView. "I knew from the very start, that this is something I wanted to know more about", says Harnik. "The technology behind it, it was just a logical consequence to the rest of my facility." This takes us back to the question from earlier: Would you go to and pay for putting in an indoor golf facility? If this green is interactive and exciting to be on, you might. Seeing animated contour lines, adjusting your visuals to see a putt for the very first time, or simply playing games like Putt Pong certainly is one thing – engaging. "We have a lot of people come in and ask us about the green immediately", says Harnik. "Either they have heard about us having a PuttView green, or they come in and ask what those lines on the green are. It certainly catches their attention."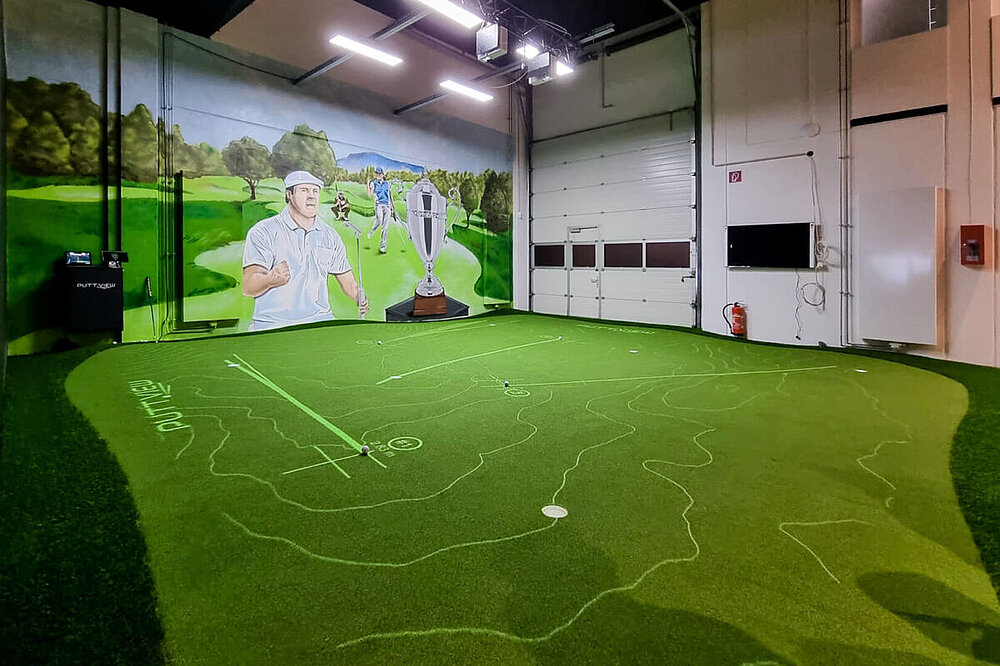 Being able to separate yourself from the competition is becoming more and more important. For Eisen Sieben that way is by integrating an interactive PuttView green.
But PuttView offers more than just catching the attention of customers. "To me, it was absolutely mind-blowing what type of data and visuals you could get off of this technology. From seeing the Ideal Line to the various animations … Unfortunately, my own putting isn't really the best, but it gives me an excuse to be on the putting green myself and learn more about it", jokes Harnik.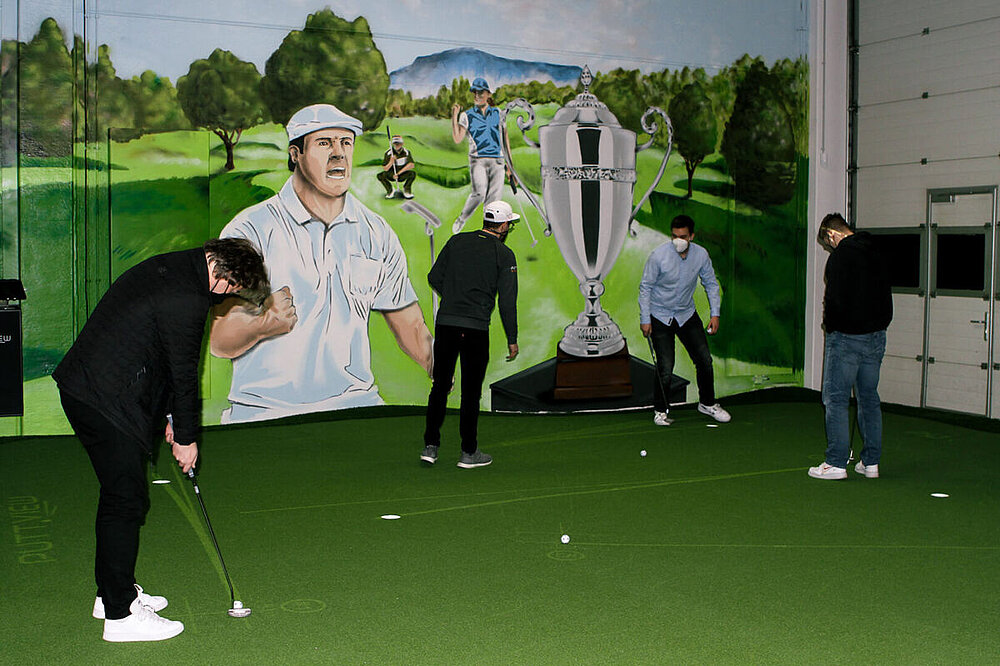 Being innovative as an indoor facility also means you give your customers a reason to return to your facility.
Learning is an essential part of Eisen Sieben and it starts with the name of the facility. Eisen Sieben means seven iron in English and for a lot of beginners, it is the first club a pro hands them. "Seven is also the number I wore a lot on my jerseys, so it was a perfect match. I want people to come to Eisen Sieben and enjoy themselves but in the meantime use the technology that I offer to learn something about their golf game", says Harnik. A month after opening the doors, however, the weather in Germany starts warming up and it also means that Harnik's business model will have to face a new objective: Can his indoor golf facility offer enough benefits for golfers to return during the summer? The challenge is obviously not one that came out of nowhere. And Martin Harnik plans to tackle the issue head one. "Again, you have to offer your customers something that makes them want to come back." Besides entertainment, the "something" Harnik talks about is specific events and things that you cannot have outside. "PuttView will certainly play an essential role in that plan", he continues. While you certainly can book a lesson with your local pro to get your trackman data, and playing courses indoors just gets less attractive, while the sun is shining, PuttView cannot be replicated or replaced outdoors. Harnik is sure: "The things you can learn from this interactive putting green, paired with games and the possibility of hosting tournaments and events – it's going to help get people into the facility!"
Eisen Sieben shows how to stick out from the crowd
The Covid-pandemic has boosted not only the number of golfers worldwide, but it has also led to indoor golf facilities popping out of the ground like mushrooms. The issues those facilities face are very similar and it becomes more and more important to distinguish yourself from the rest of your competition. Customers nowadays expect golf simulators, food, and drinks in an indoor golf facility. What they certainly do not expect is an interactive putting green that gives them unlimited possibilities to visualize a putt. Examples like the one of Martin Harnik and Eisen Sieben show how you can easily separate yourself from the competition while offering your customers something unique and intriguing. From an entertainment-focused business plan and drawing in more people through something new to giving unprecedented putting lessons within your facility, you can boost your Return on Invest through PuttView in multiple ways. As for Martin Harnik: We wish him and Germany's largest indoor golf facility all the best and we hope to continue to help boost your business!
Info: To book a slot at Eisen Sieben simply go to the website www.eisen-sieben.com and book the desired time through the website's online booking tool. The green is available in half-hour and hourly slots. The cost for half an hour is 10 Euros, while the hourly rate is 15 Euros. Furthermore: Be quick as this is only available for a limited time: Through the month of march the PuttView green is free of charge and can be used by anyone. So make sure to stop by and try it firsthand.
Address:
Eisen Sieben GmbH
Biedenkamp 3D
21509 Glinde

Opening Hours:
Monday – Thursday
10:00 – 22:00 Uhr

Friday – Sunday
10:00 – 24:00 Uhr