Make the most out of your putting practice
As the leaves begin to change their color and the weather slowly starts to take a turn for the worse, a lot of golfers are facing a reoccurring problem. How are they going to maintain their form throughout the winter season? Or how are they going to get into form before the new season starts? Especially our short game and putting suffers tremendously from the lack of practice during these cold months. Time to get ahead of things and make sure, that this year you will stay on top of things. In this month's blog we will tell you what you need to consider when buying a putting tool and how, even in small spaces, you can hugely improve on your putting.
During those warm summer days, golfers rarely focus on their short game. But when confined to their homes during the off-season, their focus begins to shift. Probably because an indoor golf simulator in a private house is both fairly expensive and requires a huge spare space. Therefore, a lot of people begin to think about their short game since it is much easier to maintain. Time to start thinking about indoor putting solutions. Before we do that, however, let's dive into the most important aspects you should take into consideration before making any decisions. Generally speaking, there are two major issues with indoor putting solutions. On the one hand, they are not very realistic and on the other hand, most people do not know how to effectively use them.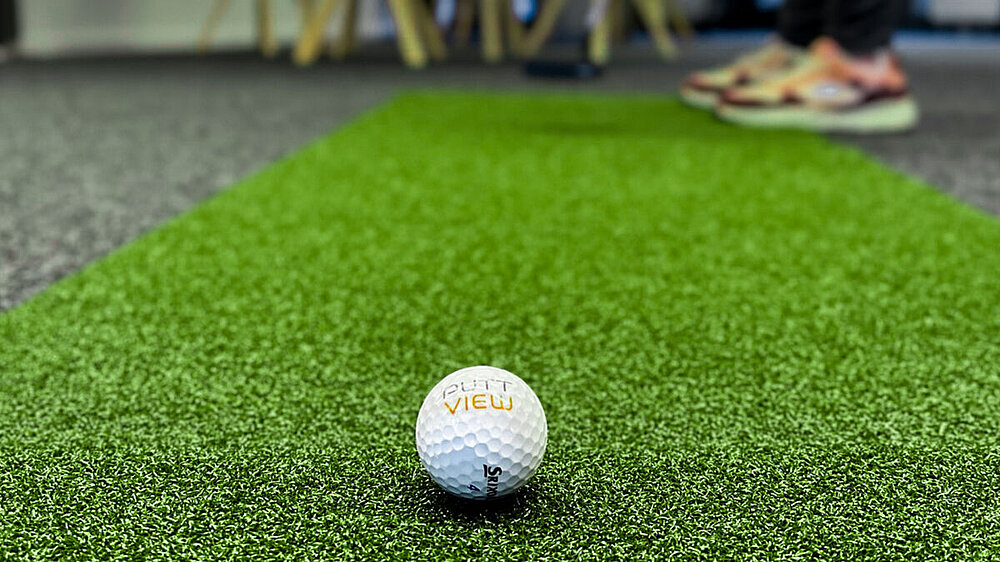 A common misconception about putting mats is, that people think it needs to be as close to the real deal as possible. However, if you are putting on a straight surface only, it almost doesn't matter what surface you putt on.
Make the most out of your putting practice
Let's start with the first problem. Of course, an indoor setting will never be the exact same thing, as a real green on a golf course. Think about it as a type of laboratory where you can practice your putting in a perfect world. To create that world there are a couple of things you should take into consideration. Including, that you won't necessarily need an actual turf to improve on your putting. A common misconception about putting tools is that people think they need the perfect turf. They like to get as close to the real deal as possible, which is understandable. Why should practicing on a ground, that has nothing to do with what you face on the golf course help in any way? The thing is if you decide to go with a straight putting mat, or one that has an uphill slope at the end, it almost doesn't matter on what turf you are practicing on. Why? Start thinking about what you are trying to achieve by buying the perfect turf. The answer is that you would like to get approximately the same speed and haptic feedback as you would outdoors. In terms of speed and distance control, this is a very important aspect. However, if you buy one of those straight putting mats, chances are that those are not the skills that you are trying to work on. You are more likely to focus on shorter putts and increasing your make percentage on those putts, rather than working on your actual speed and distance control.
The next question you need to ask yourself in that context, is how am I going achieve that goal and start holing more putts? In general, there are three skills that need to be mastered to perfect your putting. Namely: read, line and speed. As mentioned above, speed control is not something you are focused on when facing a rather short, straight putt. The read element is also out of the picture due to the lack of break on a straight putting mat. Which leaves us with Line. Being able to start your ball on your intended line is definitely a skill that a lot of golfers underestimate and it is not as easy as people think. This is a great skill to improve upon during the winter season. To get back to the initial turf question, do you need any specific ground to work on that skill? The answer is clearly no. It will not make a difference if you putt on a wooden floor, carpet, tiles, or a specific putting mat if this is what you are working on. All you need to do is make sure you find a way to see if you are able to consistently start the ball on your intended line and you are good to go. Meaning, that you won't need the most realistic turf in order to improve your ability to start the ball on line.
Starting the ball on line is not as simple as it sounds. A lot of golfers struggle to consistently start their ball on the intended line, making it even more difficult to hole putts.
The value of putting tools
This brings us to the second part of the initial problem of indoor practice. A lot of golfers have never really focused on their putting practice and only start to shift their focus once winter comes around. Obviously, it is difficult for them to know how and what to practice because they have not thought about it before. Simply going indoors and buying practice tools will not change that. Furthermore, common issues that golfers face outdoors, are also transferred to the inside. What do we mean by that? Well, the problem with putting is, that you have almost no way to separate the three essential skills mentioned above – read, line, and speed – from each other. You can never be 100% sure if your misses came from a read, line, or speed error, or a combination of them, at least not on a breaking putt. This also holds true inside. As mentioned earlier, on a straight putt, you can isolate the line from the rest of the skill sets, because they become almost neglectable in that scenario. A lot of putting mats even come with visual lines, which will help you see whether you were able to start the ball on your intended line or not, which is a great asset to have.
But what about the other two skill sets? Again, you are facing the same problems inside as you do outside, but this time even more intensified. Let's hope that your home does not have too many breaking putts on its floor. Otherwise, you can just ignore the following and continue with your actual practice. For everyone else: how are you going to practice your green reading or speed control, if you are only facing straight putts? Unfortunately, there is no way to work around this problem without a putting mat that has break but the good news is that this still doesn't mean that you have to build an entire green complex into your home.
The majority of putts you will face on the golf course are within 10 feet. While a lot of them are accounted for by tab-ins it is still worth focusing your time on those shorter putts.
When facing putts, the vast majority of them is inside 10 ft. And guess where the biggest difference between a tour pro and amateur golfers is on the green? You guessed correctly; it is inside 10 feet. The PGA Tour average from 10 ft in 2021 was just over 42%. From 5 ft it was all the way up to 81 percent. While there are studies available that suggest a scratch player has almost a 10% lower make-percentage in those distances, being honest to yourselves, you will know that your percentages are probably not going to be this high. Going outside of this 10 ft radius, the discrepancy between a pro and an amateur in terms of make-percentage decreases significantly. The real difference is that you are more likely to three-putt from a long-range than a tour player is, which brings us back to the fact, that they hole out more consistently from inside 10 feet than you do. This suggests that you should work on those putts, rather than moving farther away from the target.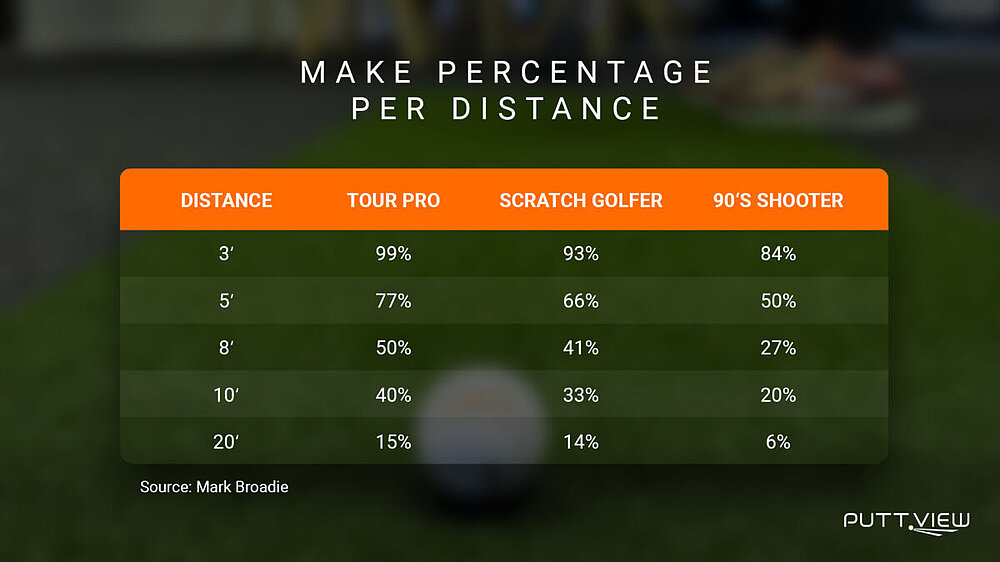 As you can see in the graphic above, the biggest difference between a PGA Tour pro and amateur golfers is the make percentage within 10 ft.
Aspects of putting practice
As easy and boring as this might seem to you, inside those 10 ft you can still face significant trouble due to break, bringing us back to the remaining two skill sets read and speed. Let's start with the green-reading aspect. When choosing a putting tool, it is important that you have both left-to-right and right-to-left breaking putts. Being able to read those breaks correctly, is a very essential skill to have. For example, in every green offered in our portfolio, including our P7 and P7 Plus Home Series that is specifically designed to fit into smaller spaces, we were focused on incorporating all those important breaks and distances. Furthermore, you should be able to understand that every golfer has a bias and a break that they feel more comfortable with than the other. Knowing your bias will help you improve your putting significantly. Therefore, it can also be very helpful to keep track of your shot pattern. If you own a PuttView system, you can analyze your data by looking at your shot patterns. It will help you appreciate your misses and in combination with visual cues such as the Ideal Line, you can easily figure out if you tend to overread or underread your putts and work on those specific problems. In case you want to know more about how you can practice your green reading and analyze your tendencies, you can also head over to our Best Practice Site and have a look at some useful drills.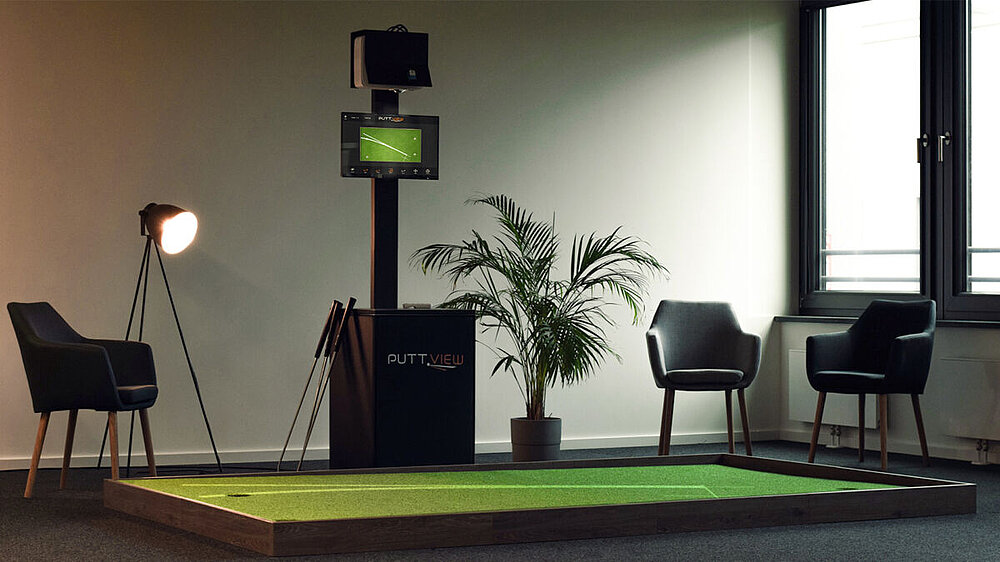 It is not always about size. Even on smaller greens, like our P7 or P7 Plus Home Series, you can practice every putt that really matters on the golf course without having to build an entire room.
Last but not least, you are left with speed practice. This is the most difficult skill set to practice. Both indoors and outdoors. When practicing your speed, you should make sure you eliminate any influencing factors, such as grain. An indoor setting is therefore primed for you to practice your speed control. If your focus is to improve in that area you should make sure to get a good turf with a consistent speed. All you will need to ask yourself is whether this is a realistic speed for you. Meaning that practicing on a wooden floor, is most likely not very relatable to the green speeds you are generally facing when you are outside. In turn, this would make it a lot more difficult for you to readjust to a much slower green speed, once the winter season is over. A good turf gives you the opportunity to really focus on your speed and distance control, rather than having to worry about inconsistencies in green speed, etc. As speed becomes the most important factor in holing out on a breaking putt, you should also focus on breaks in both directions.
So many possibilities on a rather small space. These are the most important putts and distances you should focus on while practicing your putting.
To sum things up, focusing on your putting and short game in general is a great idea, not only during the winter. Using the spare time available at home in a smart way, will help you to not only maintain your form, but become a better golfer. Still, there are plenty of things you should consider before going out and buying just any tool on the market. With any practice that you face, you can only improve if you have a firm idea of what you are working on. Making sure you focus on the right things will also significantly reduce the amount of time you need to get better. In terms of putting practice this means you need a space where you can practice putts of up to 10 ft, have various breaks incorporated, and a relatable, consistent green speed. This way, you can practice every aspect of your putting in a small, confined space that will help you save strokes.