What does it take to get your own PuttView?
What exactly is PuttView? And what goes into it prior to arriving at your doorstep? Those are questions that we get asked a lot. And they are legitimate questions, as PuttView is much more than a putting mat where some lines are projected onto the surface. At PuttView, we strive to find the best possible solution for your individual setup.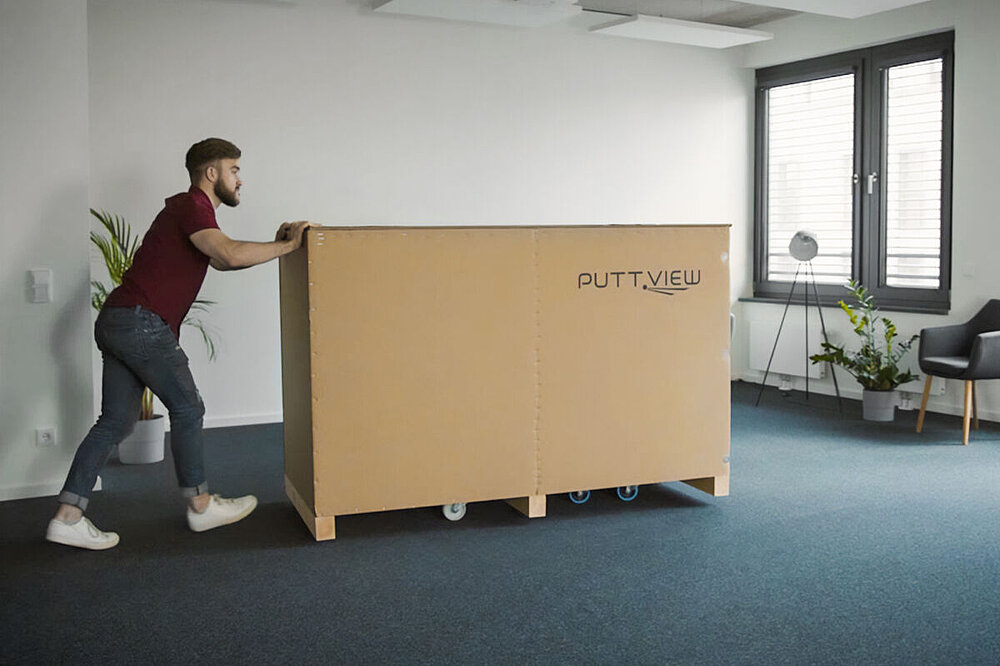 So, let's start with the most obvious question: What is PuttView and what does the product consist of? One thing that is mandatory for all customers is a putting green. While we do offer our own putting green solutions, which we will get to at a later point, PuttView can be installed on any pre-existing green. Meaning that if you already own a green, you do not have to purchase another one and there are no special requirements for the surface itself. All that is needed is the green data of the green you would like to install PuttView on. The next part to PuttView is the software itself, so let's have a closer look at that.
Enhance your putting with Augmented Reality
PuttView is an Augmented Reality based system, but what does that mean? Many people confuse AR with Virtual Reality, which is something completely different. Virtual Reality is a little more well-known to the public and this is where the confusion comes from. As the word virtual implies the user is taken into an alternative reality to experience something or someplace that isn't physically there. Augmented Reality, on the other hand, does not do that. Here, the user remains in the "real" world, while getting additional information about said world which would otherwise not be seen. This technology is for example used in modern cars, where, instead of having a separate navigation display next to the driver, the information is displayed through the windshield. The same thing holds true for PuttView. While the user is standing on the green, all information about a putt is displayed directly on the green through a projector. Giving the user the advantage, that he doesn't need any tools or attachments on the putter in order to see the additional information and learn from them. It also enables the player to move around the entire green freely as an algorithm is able to instantly calculate any putt from any starting position and engage directly with what is happening on the green.
Augmented Reality adds additional information to the real world. In combination with our real-time Ball Tracking, you can play games, track your putts and see what you need to do to get the ball into the hole.
Your PuttView journey
All of this provides a realistic learning environment that helps the brain comprehend all aspects of a putt in a sustainable way. But what does it take, to get one of those interactive putting greens delivered to your doorstep? Well, it all starts by filling out a contact form on our website. Through that you will be connected to one of our Sales team members and the journey can begin. The top most priority at the beginning is to find the right setup for yourself. This means, that we help you identify the setup that fits your needs (software), as well as your space (hardware). As mentioned above, this can be anything from a pre-existing green to our P7 Home Series, all the way to our C2 Custom Series which is a two projector system with a green that we help you design according to your preferences. If you do not already have a certain green setup in mind, our sales rep will start out by providing you with the specs of the units we sell, as well as the minimum ceiling height which is required depending on the setup you pick and the size of the area you would want to cover with the projection. This brings me to another frequently asked question by potential customers. Many people do not understand that our greens also come with built-in breaks and they are worried, that they will have to face the same putts over and over again. In fact, on PuttView, you can change your starting position and the hole you are putting to without any restrictions other than the size of the green. No matter which breaks are built-in, you are going to be able to play left to right, right to left, double breaking, and straight putts. In addition, if you decide on a moving green, you will get uphill and downhill putting scenarios as well. Once, we have elaborated on the options that are available for your space, the focus shifts toward matching possible setups to your needs in terms of software functionality.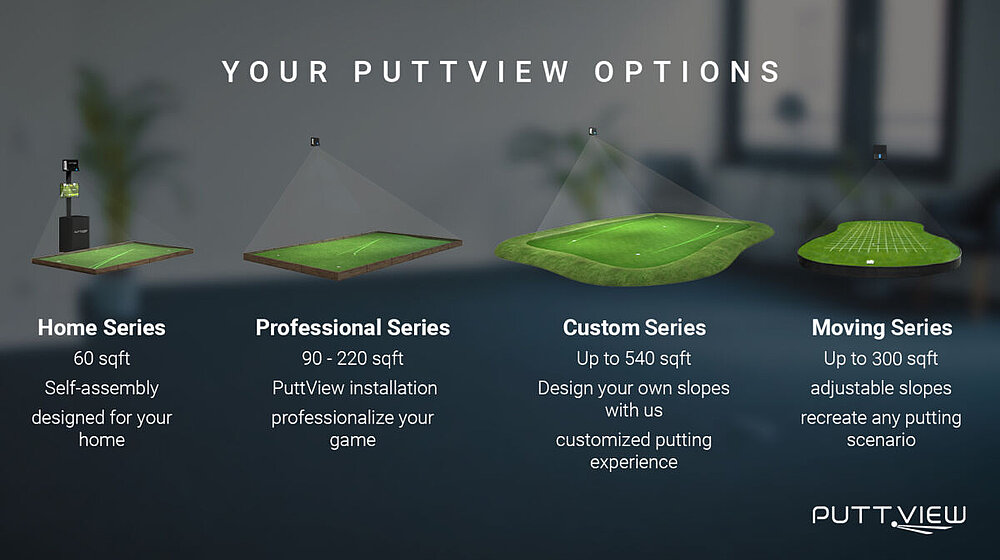 We offer a wide range of products but also offer you individual solutions for your needs.
No matter if you are a coach, own a facility, are a private homeowner, are a professional player, or anything in between, we got you covered. Our sales rep will help you identify which setup best fits the requirements you are looking for your space. Let me elaborate on that. One part of getting a PuttView is finding the right size of the green, but most of the time, there are multiple options that come into play. To narrow them down, we will ask you what the purpose of your unit will be. For example, if you are a coach at a university, you would want to look at the biggest available option to fit more people on the green at the same time. However, if you are a coach and mostly do one on one practice, it is not necessarily the best fit for you to go all out in terms of the size of your green.
Green Consultation and installation
Once we identify the setup, we can begin with the next step. Besides our Home Series, which is a self-assembly unit, all our products come with an installation service from our side. Meaning, that someone from our Operations Team or one of our distributors will come to install your unit on-site for you. Our Custom Series additionally gives you the freedom to design your own green in conjunction with our Operations team which will help create a layout proposal. Tell us which specific breaks you would like to get in your putting green, and our Operations team will design the green in accordance with your wishes and helps you select a green building company that will make your dream setup come true. This ensures the quality standards as well as the accuracy you would expect from your PuttView. While you might ask, if an installation service is really necessary, the answer is yes, it is. Any unevenness of the ground naturally also messes with the accuracy that we can provide. Therefore, we build a level base layer prior to putting the breaks and turf in place.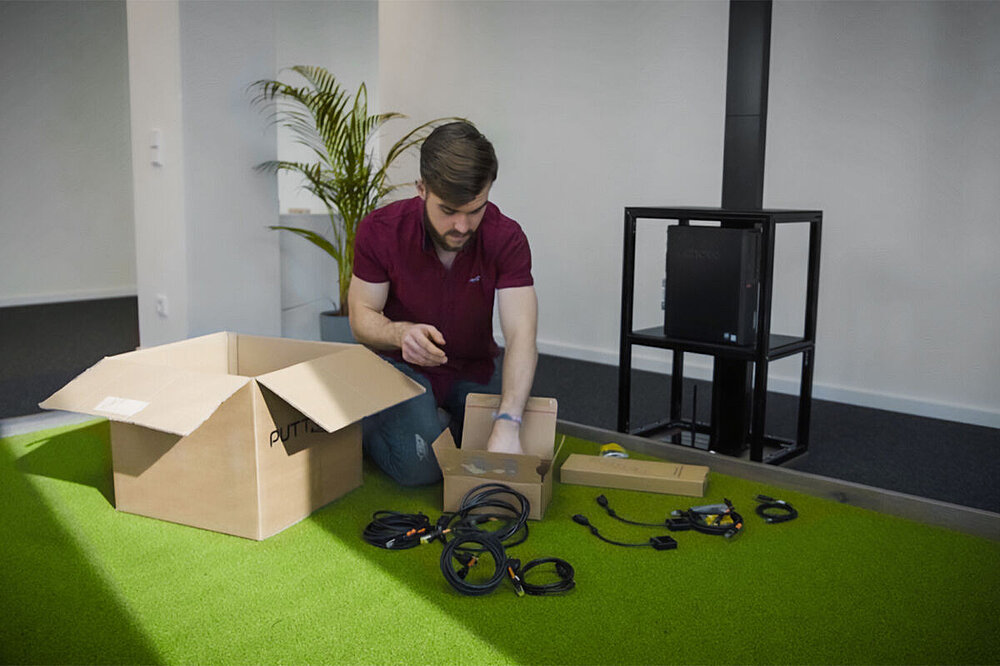 When deciding on a Home Series, we deliver a self-assembly unit to you which includes all the tools required to build the system.
Shipping and order completion
Once the decision for your PuttView has been made, and you decided on one of our green options, the order goes to our warehouse in Germany, and is prepped for shipment. In case you decided to go with our Professional Series or Custom Series our Operations team will now schedule a date at which they will come and install your unit. For the Home Series, we will ship you a box that includes everything you need for the self-assembly (tools, light meter, hole saw, router, computer, turf, etc.) and after building the green, all you need to do is set up a call with our Support team so they can calibrate your system remotely. After the installation, we will send you a handover email that ensures that you have all the important information on your system readily available, which means you should make sure to save the email and the attached documents.
To ensure that you get the most out of your PuttView, our annual subscription fee is included in the first year for free. This includes our real-time Ball Tracking which gives you access to your putting date and our PuttView statistics, Software Updates (usually at least 3 times a year) with new features, games, and other improvements to the system, as well as a software and hardware guarantee which means if anything breaks or doesn't work anymore, we will repair or replace it at no additional cost for you. Additionally, our Development team is continuously improving the features as well as the look and feel of PuttView. This year for example we already added a completely overhauled interface, as well as a new game named Splash! At PuttView we try to give you the best possible customer experience, so even after you have purchased your system, you can always reach out to our Support team which will usually get back to your request within 24 hours.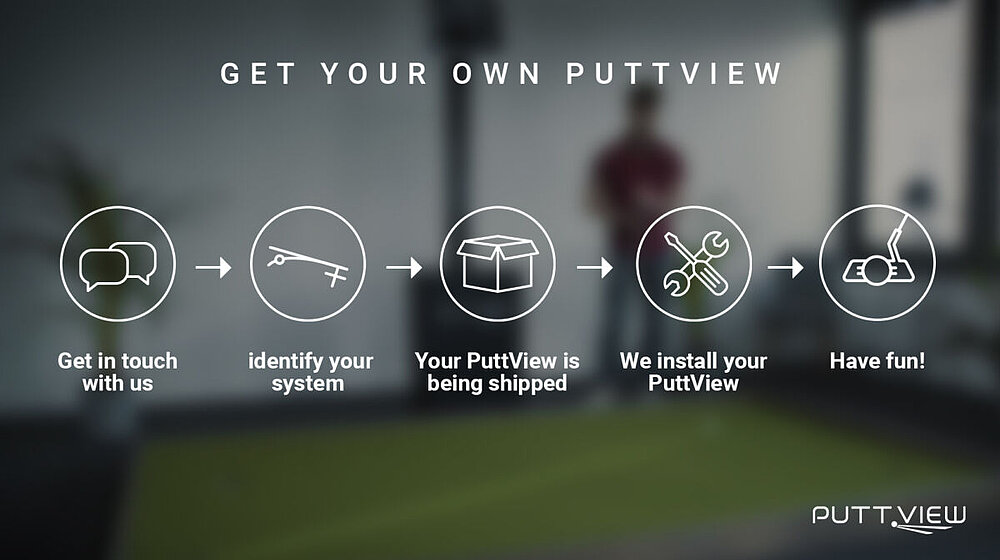 Your PuttView journey
Getting a PuttView system is more than just installing a cool-looking putting mat at your home. If you decide to go with PuttView, we make sure we support you every step of the way. You will have a personal Sales rep, if necessary you will be in touch with your own representative of our Operations team and the Support team will be available for any problems you might run into once the system is installed. This way, you won't feel overwhelmed and we can also provide you with valuable information on how to practice your putting and how PuttView can help you with that! We have many trusted partners that continuously support us in our efforts to make this the best product you have ever bought and they include world-renowned putting specialist Phil Kenyon, US Open Champions Bryson DeChambeau, and Justin Rose, as well as some of the best universities in the US. In case you would like to get more information on one of our systems, please don't hesitate to fill out our contact form and we are happy to help you find your very own PuttView